Imagine how big the eyes of a 9 year old girl when she is surprised to see the birthday party of her dreams unfold before her eyes. The microscopes, mixing bowls, powders, liquid and gels all on the table in front of her and 8 of her closest friends. She's curious by nature, always looking to find ways to make something from different products she finds in the house. She likes to cook and paint her nails, but she has a real knack for science. For her to see the material she needs to create her own nail polish, lip gloss and eye make up she is genuinely inspired to know that she can be a scientist one day, and maybe even make her own skin care line.
The opportunity to customize parties for girls in a era where "princess parties" are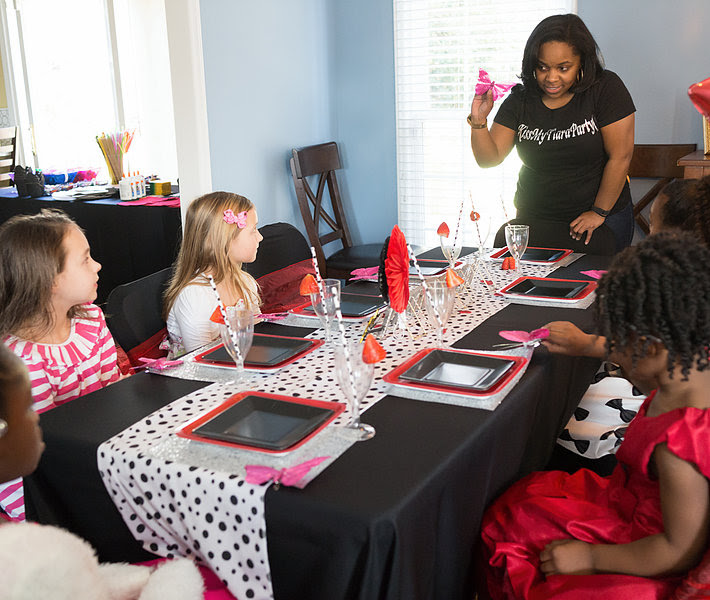 mainstream is appealing to a generation of parents recognizing the need for their little girls to see diversity, be empowered and feel included. Speaking to Taira Duncan about KissMyTiara events, she made me aware of the way we grew up and how we as young girls were fed images through movies of how a girl's life is supposed to be. In the movies we grew up watching, most princesses had fair skin, straight hair and were slender in build. The princesses participated in very feminine activities like going to the market, or playing with dolls or brushing their hair.  Their prince charming eventually came to rescue them and shortly there after they had an immaculate wedding for the world to bask in the extravagance of the occasion. But what does that say to the girl with kinky hair or has a heavier stature? Or the girl who likes to play basketball or loves cars? Can these qualities be celebrated too?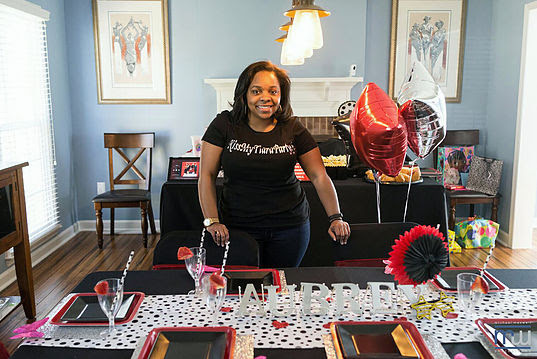 Taira founded the KissMyTiara Party Company to celebrate all the qualities that young girls bring to the table regardless of their interests or physical appearance. The concept was born from a project in entrepreneurship her 11th grade year in high school and refined while she attended Agnes Scott College. In the years after college, Taira began working with Teach For America and has worked with 3rd-5th graders in the classroom. Taira used her experience in the classroom to help create a custom "edutainment" experience for young, impressionable girls. Being a teacher also provided her a network of people who love working with kids. Some of the KMT Party crew are teachers, while some just naturally have the patience and personality to work well with kids. As a collective, Taira and her team work hard to make sure they provide these young girls with unique and memorable experiences.
Organizing events, however, requires a different type of training than managing in the classroom. Taira supplemented her college degree with the Meeting and Event Planning Certification program at Emory University. This certification program helped her develop skills needed to negotiate contracts, set up lighting and decor as well as make sure her events are American Disability Act compliant. With her KissMyTiara event themes ranging from Glam Scientist for the little girl who loves science to the Queen of the Court for the athletic diva, Taira and her team are constantly creating new ideas to celebrate little girls for all that makes them unique.
If that type of unique celebration of young girls isn't enough for you, then this may tip you over the scale.  Taira and her team are partnering up with the Men's Shelter of Charlotte to put on a memorable event for a great cause on Father's Day. On Sunday, June 19th the KMT team will host the semi-formal event, "Her Father, His Joy: 2016 Father-Daughter Dance" where a portion of the proceeds will go towards providing meals for 200+ men who are serviced by the shelter each day. Father's make a big impact in the lives of their daughters and sometimes don't get the celebration due to them. This event is sure to highlight the importance men play in their daughters' lives and celebrate them on their day. For more information on the Father's Day Dance, click here.  For more information about organizing an event for your daughter, check out the Facebook page or contact the KissMyTiara Party Company team via their website.